Stonefield is an Assisted Living Community located in McKinney, TX. Assisted Living care offers an independent living experience with the personal care and health services as needed. Assisted Living communities are designed to provide residents with assistance with basic activities of daily living (ADLs) such as bathing, grooming, dressing, and more. Some states allow assisted living to offer medication assistance and /or reminders. They typically offer daily meals, activities, religious services and transportation. For more details on this community including pricing and availability, call the number above or complete the email form.
Saddle up for the time of your life at Stonefield, an Assisted Living and Memory Care community in McKinney, Texas, that is chock-full of style and fun. Their goal is to enrich the lives of residents by providing an environment that is physically, mentally, spiritually and emotionally stimulating. With walk-in closets spacious enough for personal belongings and bathrooms sporting walk-in showers, their ranch-style environment is big on amenities that all of their residents appreciate. Unique by nature, their community offers a spa room and manicurist who makes in-room visits so residents can relax in style and with the dignity they deserve. The community also pampers residents' puppies with pet care assistance available if needed. Their one- and two-bedroom open floor plans boast plenty of safety features including personal security systems and emergency call buttons in addition to wall-to-wall carpet and 2-inch mini-blinds for the ultimate in comfort. Their caring and professional staff members will provide a helping hand for residents who may appreciate assistance with the activities of daily living, including courtesy transportation for shopping and dining outings, housekeeping and personal laundry services and medication administration. Stonefield is conveniently located off of State Highway 75 (Central Expressway) with access to a plethora of dining, shopping, entertainment and sports venues.




Since 1990, Capital Senior Living has grown to become one of the largest senior living providers in the United States. With a goal of offering affordable housing and an enriched lifestyle to thousands of seniors, their dedicated team of professionals succeeds in providing quality care in each of their unique communities.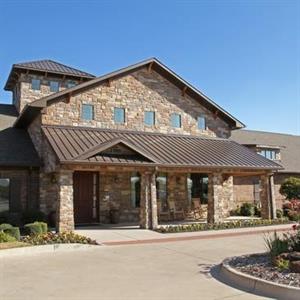 Call for Pricing
Pricing will vary depending upon published room rates, care charges and medication charges. Each resident is evaluated to determine care needs and final pricing.