Spring Meadows Trumbull is an Assisted Living Community located in Trumbull, CT. Assisted Living care offers an independent living experience with the personal care and health services as needed. Assisted Living communities are designed to provide residents with assistance with basic activities of daily living (ADLs) such as bathing, grooming, dressing, and more. Some states allow assisted living to offer medication assistance and /or reminders. They typically offer daily meals, activities, religious services and transportation. For more details on this community including pricing and availability, call the number above or complete the email form.


Discover a community truly in bloom at Spring Meadows Trumbull, where residents spend their days in a warm and friendly environment. Their community offers privacy and the freedom to live the way residents choose in comfortable surroundings. At the same time, it offers companionship. Say goodbye to the worries of living alone. Say goodbye to home maintenance and housework. Say hello to a relaxed lifestyle, where residents take advantage of thoughtful services that make living easier and enjoyable, including weekly cooking classes, Bocce tournaments, housekeeping services and horse racing night. The 24-hour staff ensures comfort and supports Independent Living and Assisted Living in Trumbull, CT. With seven floor plans to choose from, their residents are sure to find the right home that fits their lifestyles - from their comfortable studios to their spacious two-bedroom, two-bath apartment homes that include full kitchens and washers and dryers. When residents don't feel like preparing meals themselves, the Assisted Living community in Trumbull also features meal plans and restaurant-style dining as well as Sunday brunch and special daily dinner menus with choices of four entrees, homemade soups and delicious desserts. Even more options for meals, as well as shopping and entertainment, are available off-site, which can be accessed thanks to the convenient transportation services. They offer residents a vibrant lifestyle that encourages health and independence through innovative recreational, educational, health and wellness programs.




Since 1990, Capital Senior Living has grown to become one of the largest senior living providers in the United States. With a goal of offering affordable housing and an enriched lifestyle to thousands of seniors, their dedicated team of professionals succeeds in providing quality care in each of their unique communities.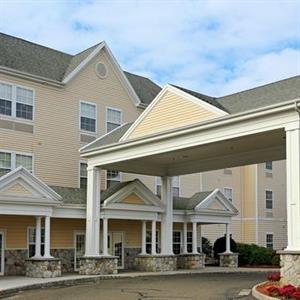 Amenities

Barber / Beauty Salon
Guest Lodging
In Room Cable/Satellite TV Available
In room Internet
Library
Outdoor Gardens
Transportation



Food

3 Meals Daily
Daily Snacks
Fine Dining
Gourmet Meals
Guest Meals
Menu Choices
Special Dietary Menus



Exercise

Exercise Room / Programs
Sauna / Spa / Whirlpool



Recreation

Arts & Crafts
Cooking Classes
Educational Programs
Gardening
Group Games
Shopping Trips
Social Outings



Religion

Religious Activities

Starting at $4244 / mo*
Pricing will vary depending upon published room rates, care charges and medication charges. Each resident is evaluated to determine care needs and final pricing.