Martin Crest is an Assisted Living Community located in Weatherford, TX. Assisted Living care offers an independent living experience with the personal care and health services as needed. Assisted Living communities are designed to provide residents with assistance with basic activities of daily living (ADLs) such as bathing, grooming, dressing, and more. Some states allow assisted living to offer medication assistance and /or reminders. They typically offer daily meals, activities, religious services and transportation. For more details on this community including pricing and availability, call the number above or complete the email form.
Get a taste of the sweet life at Martin Crest, where a full calendar of activities and social programs, in addition to apartments with thoughtful amenities, offers an enriching lifestyle for seniors. Their community provides Assisted Living and Memory Care in Weatherford, Texas, in a relaxed atmosphere of warmth and caring that promotes companionship among residents and staff. Porch areas with old-fashioned rocking chairs and beautiful courtyards promote neighborly visits and allow their residents to relax in style, quiet and comfort. Their one- and two-bedroom apartments are equipped with a number of safety features including emergency call buttons to provide peace of mind for families and friends and individual locked mailboxes for the privacy of their residents. Residents stay active with exercise programs, crafts, water coloring, cards and dominos within the community. A jewelry and cosmetics store brings goods to their community so residents can do their shopping without going very far. With their courtesy transportation, though, residents can get out on planned outings and discover the many shopping, dining and recreational offerings in the peach capital of Texas.




Since 1990, Capital Senior Living has grown to become one of the largest senior living providers in the United States. With a goal of offering affordable housing and an enriched lifestyle to thousands of seniors, their dedicated team of professionals succeeds in providing quality care in each of their unique communities.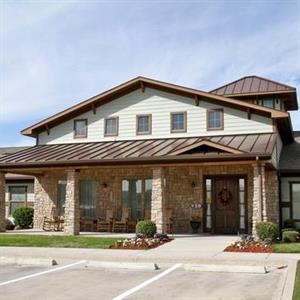 Call for Pricing
Pricing will vary depending upon published room rates, care charges and medication charges. Each resident is evaluated to determine care needs and final pricing.